George Tatnell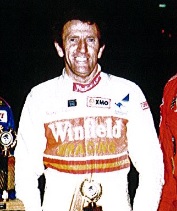 Inducted 2007
'Gorgeous' George Tatnell began racing Stock Cars at Windsor Speedway in 1962. He then moved into the Westmead Super Modified ranks before Speedcars occupied his interest for the following 10 years, winning the 1970 and 72 New South Wales Championship, 1973 Australian Speedcar Grand Prix, 1973, 74 and 77 Australian Speedcar Championship with runner up positions in 1976 and 78.
He is equal 7th in all-time career Speedcar Feature wins at the Sydney Showground Speedway with 18 wins and is a past holder of the 1 and 25 lap records at the Sydney Showground on dirt, and the 1 and 4 lap records on the Liverpool pavement. Tatnell is the 4th highest feature race winner at Liverpool with 20 wins, among those was the Bob Tattersall Memorial.
Tatnell is the best interstate performer at the old Rowley Park Speedway in Speedcars with 8 victories, he took out 2 Speedcar features in Brisbane (including the 1977 World Derby) and Perth and was nominated to represent Australia in test match duties in New Zealand where 2 more A-mains were added to his career tally to over 50. Tatnell drove memorable Speedcars such as the Stanton, Winfiled Wedge and purchased the controversial Don Edmunds Offy Roadster from Kevin Fisher however it was banned before Tatnell could ever race it and remained in the Tatnell Brothers Automotive garage for more than 25 years.
Due to his success in the Speedcar ranks Tatnell was offered a drive in a Sid Moore Sprintcar and immediately won the 1975 NSW Title in Lismore to add to his 1966 win.
Always a controversial and colourful personality Tatnell brought his long time sponsors Winfield into Sprintcar racing in 1979/80, finishing third at his first Australian Title outing.
The ultimate championship eluded him for the following eight years (despite a second and two fourths) until the 1987/88 event in Adelaide, when he became the first driver to win both the Australian Speedcar and Sprintcar Championships.
Tatnell won back-to-back Winfield ASC Series (World Series Sprintcars) Championships in 1988 and 1989 with a runner up position in 1990. Tatnell captured 7 World Series Sprintcars Round Wins and 8 Fast Times however a ban on racing in Winfield livery in SA and Vic curtailed his WSS activities in 1991/92 when the series was sponsored by Quit.
Victory in the prestigious Grand Annual Sprintcar Classic forever eluded him. However his son Brooke has won the classic as well as Australian Championships, WSS championships and was the first Australian to win a World of Outlaws main event in America.
Tatnell was also the Sprintcar Control Council of Australia (SCCA) president from 1995 to 1999.
In 2007 George John Tatnell was seen off in a manner he would have endorsed, all showbiz to the end. His coffin was painted bright red, like his racing cars. And his wife Val arranged to have his signature "anyhow . . ." written on the side and a chequered flag draped over it.