Geoff Murphy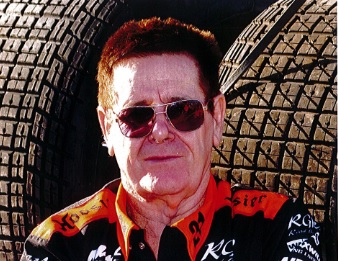 Inducted 2011
Geoff Murphy's involvement in motor racing began when he was the chief machine examiner at the West Australian road racing circuits Caversham and Wanneroo.
While operating his own business, Geoff Murphy Panel Beaters, he was approached by Paul Johnson, later to become well known as a flagwaver, to build him a Speedcar in the seventies. With help from Bob Farmer and Geoff Stanton the first Murphy car was created. After some time as the machine examiner for the WA Speedcar Drivers' Association Murphy constructed a unique monocoque Speedcar for Stanton to race during the 1973/74 season. He also modified Des Nash's Chevy 2 to house a Volkswagen motor. He then built several more Volkswagen Speedcars for local drivers.
Murphy was asked to have a look at Alf Barbagallo's imported Sprintcar that was not handling very well. After some tinkering Barbagallo lapped the entire field at Bunbury and Murphy became a permanent fixture on his team. It is a fact that Barbagallo himself considered Murphy as a major factor in his success coming second in Australian Sprintcar Championship, winning six WA Titles and taking out more feature races at Claremont Speedway than any other driver.
Garry Rush wonthe 1983 Australian Sprintcar Championship driving a Murphy car. Murphy has supported veteran WA sprintcar driver Mark Wells for his whole career. Wells has won four WA titles, two WSS rounds and many more other events. He has built winning Formula 500's for Australian champions Matt Brown, Trevor Harding and his son Daniel Harding.
Murphy also linked up with Keith Mann, who won three Australian Speedcar championships, built cars and was flown over to major meetings by Darwin's Warren Ekins who won out four Australian Speedcar titles and Murphy has built many cars for WA veteran Neville Lance who placed in several Australian Speedcar Titles and won seven WA Championships.
In 1980 while helping Bob Trostle at the Knoxville Nationals, Murphy assisted USA legend Sprintcar Steve Kinser fit his engine into a Trostle car after his was wrecked.
Kinser went on to win the Knoxville Nationals that year. In America he polished his skills and has always thought out of the square and has never been afraid to try something different. His son Shane was the 'test pilot' for his father's many innovative ideas such as a 'laydown' Sprintcar motor. Murphy has served as President of both the national Sprintcar body and the Sprintcar Association of WA for many years, been a member of the Safety & Regulations Advisory Committee of the WASpeedway Commission (Speedway West) and Chairman of the West Australian Speedway Commission Track Grading Committee.
Today Murphy Racecars are still manufacturers of high quality and innovative Speedway Racecars. They manufacture all chassis, front beams, panels, fuel tanks, crash bars and wings in house for Sprintcars, Litres, Speedcars, Formula 500's and some Late Model's.
The machinery layout, cleanliness, organisation and production are a credit to Murphy competing in the tough world of Racecar construction where imports seem to be quite common around the tracks these days.
There is nothing Murphy Racecars can't or won't do for the racer, including shock Dyno Tuning. If Geoff can't do it then he can call on his neighbour, for help as right next door are Late Model super stars Bert and Craig Vosberg.
Geoff also has the talents of Anthony Gittos, for regular weekly racecar preparation, full turnkey builds or refurbishment of older cars. Utilising the skills of Craig Bottrell from Empire Graphics, just across the road, sign writing and design is also handled in house by Murphy. Innovative designs, suspension setups others haven't thought of yet are included with a Murphy car. The workshop is a partial museum for speedway with two of Steve Kinsers original Trostles stowed away upstairs. Endless posters and trophies thanking Murphy from stars of the sport line the inner walls of the building.
GKR Transport run every Friday out of WA and arrive into Sydney Sunday afternoon and Melbourne Monday afternoon. They are speedway enthusiasts and take great care. Murphy Racecars use other Australian manufacturers of fine parts and accessories in their builds such as Lee Giblins from LGM Chassis and Darren Mollenoyux at Swift Racing Products in Warrnambool Victoria.
Murphy is still very active on the West Australian scene and regularly looks after several Sprintcars, Speedcars and Formula 500s on the same night at the Perth Motorplex.