Bill Wigzell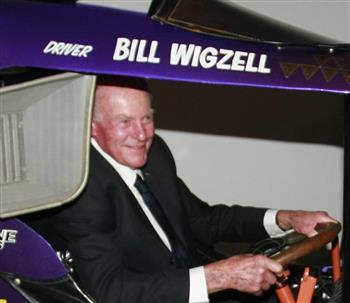 Inducted 2008
Bill 'The Wizard' Wigzell, as he affectionately became known, began his career at age 17 racing Solos at Kilburn Speedway. A year earlier, in 1947, Wigzell was hired by legendary car owner Alex Rowe as an apprentice motor mechanic. When Rowe was asked in 1953 by Rowley Park Promoter and racer Kym Bonython to prepare the ex-Jack Brabham Twin for racing the task fell to Wigzell.
Rowe eventually purchased the car and offered the drive to Wigzell for the 1954/55 season. The following year Wigzell finished second in the Victorian Speedcar Title at Tracey's Speedway, Victoria and by 1960/61 took out the RDA #1 for Speedcars. Rowe built the yellow #2 Rowe Special with a supercharged Puegot engine in1,1964 and with Wigzell driving the car broke the 10-lap Rowley Park record and later that year won the 40-lap Speedcar Derby.
The combination went on to win many feature events over the next five years including the SA Championship and Harry Neale Memorial.
Moving on to drive for Kevin Fischer, Wigzell won another Harry Neale Memorial, RDA#1 for Speedcars in 1973/74 as well as the 1974/75 Rick Harvey Memorial.
During this time Wigzell was also wheeling Fischer's Super Modified nicked named 'Suddenly' and won the 1970 Australian Super Modified Title at Morrisett Speedway in NSW after less than twelve months in the division.
Fisher Racing built a special rig to accommodate the ex-Rowe Speedcar and Suddenly. The Suddenley combination won the 1974 Grand Annual Sprintcar Classic, 3 Craven Filter Championships in 1972 (Qld), 1973 (WA) and 1974 (SA), 5 South Australian Titles and 37 Rowley Park Features. During their best season in 1973/74 Wigzell won 18 out of 21 feature races (9 in a row) and held every lap record at Rowley Park Speedway.
One race he did not win was the 1972 Australian Modified Sprintcar Championship held at Premier Speedway Warrnambool. The starting positions were determined by drawing a marble. When Wigzell pulled out the number one other competitors were tempted to pack up and go home. However Suddenly's right rear tyre was smoking so much that by lap 15 it was on fire, the result of fuel dripping off the right exhaust pipe onto the red hot rubber.
During a 1974 trip to America Fisher purchased an Edmunds Sprintcar from Mike McCready for Wigzell to drive followed by the Bill Schaedel Maxwell. A new Nance Sprintcar was campaigned for Wigzell during the final Rowley Park season in 1978/79 and he placed second in the Australian Title behind Steve Brazier at Warrnambool.
Wigzell was one of only speedway competitors that raced at both the first (1949) and last (1979) Rowley Park Speedway meetings, the other being Laurie Jamieson. Wigzell took out the RDA #1 for Speedcars again in 1980/81 together with the 1981 SA Speedcar Title.
At this time Wigzel led the all time Sprintcar feature race winners list at Rowley Park/Speedway Park with 66. The next driver was Zeke Agars (22) He also placed third on the all time Speedcar feature race winners list with 37 behind Joe Braendler (40) and Harry Neale (39).
During the 1983/84 season Wigzell won the opening meeting and the Harry Neale Memorial (in record time) with a third place in the State Title. During a Speedcar incident he severely damaged his wrist and was forced into retirement.
Wigzell was awarded the O.A.M, Order of Australia Medal, for his contribution to Speedway and was in attendance at the inaugural Speedway Hall of Fame Induction Dinner in Adelaide. He passed away in 2012.