Jack Young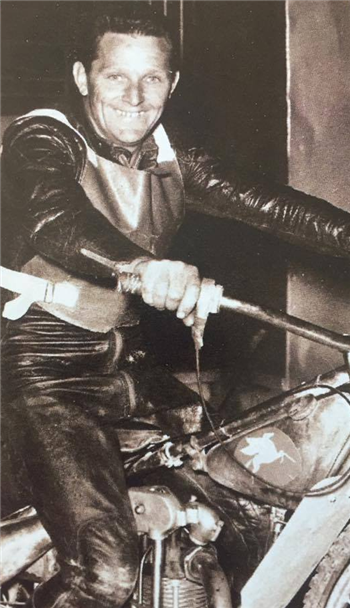 Inducted 2008
Jack Young's father, Wally, was a keen follower of racing at the Wayville Showground during the pre-war years. Thanks to his "Ham Radio" he was able to follow the fortunes of Australian riders in England.
Young left school at the age of 14 to help support his family when ill health forced his father to give up work. He progressed through a number of vocations all the while racing a bicycle and later riding a motorbike on vacant land and for a while around the family market garden.
Following World War II his brother, Frank, entered his stripped-down Norton in the Road Bike section at a Kilburn meeting (due to the shortage of speedway motorcycles at-the time, separate events were programmed for road bikes and specially built speedway bikes).
Jack also decided to try racing in the Road Bike class when his other brother, Walter, offered him the use of his motorcycle. Young's 'first taste of success came when he won the Road Bike Handicap on January 18, 1947. He had only been issued with a racing licence four days earlier.
As the 1946/47 season was drawing to a close, Laurie Jamieson offered Young a Solo ride on May 9. On a strange bike Young let the clutch out for his first ride without any practise and was almost thrown off the machine. He recovered from last place to win his heat race. In the feature scratch event Jack finished second to the seasoned campaigner Les Fredericks and also placed second in the feature handicap.
A week later he finished second to Fredericks in the South Australian Solo Championship. The following season Young won the Feature Solo Scratch race and the Feature Solo Match race on the opening night and went to represent his state at the Claremont Speedway in Western Australia and win the SA Title.
In 1949, the Second Division Scottish club Edinburgh decided to give Young a trial and paid his fare to Britain. There have been some wonderful performances on debut in British speedway and Jack Young's would have to be one of the finest. His debut meeting was at his home track, and he won all six races he contested. Those responsible for bringing him to Edinburgh were ecstatic, and rightly so.
Young stayed at Edinburgh for three seasons before moving up to race in the First Division with West Ham in 1952.
He was a prolific scorer for that famous club for four consecutive seasons. Having taken a two year break from overseas' racing, Young returned to England in 1958 to race for First Division team Coventry. He stayed in Australia in 1959, but returned to Coventry again in 1960 and 1961.
Young spent ten seasons racing in England and made the World Final starting field in seven of those years. He finished equal eighth at his first World Final appearance in 1950, won in both 1951 and 1952 becoming the first rider from a Second Division British club to win the World Championship. With his success again the following year, he became the first rider to win the prestigious event a second time.
He finished fifth in 1953, fourth in 1954 and equal fifth in 1955. He wasn't in the field in 1958, but did qualify in his next English season in 1960. He finished equal eighth that year. In 1961 he was a reserve for the World Final, but wasn't called on to ride.
While racing in Great Britain he represented both Australia and Scotland in International matches. In addition to his numerous South Australian State Championship victories, Jack Young also won the Queensland and Victorian titles. Although he is undoubtedly one of the finest speedway riders Australia has produced, he never won an Australian Championship. During the period he competed in Australia, nearly all of the National title meetings were held in either New South Wales or Queensland. He much preferred to be out on the water fishing than travelling around Australia racing speedway.
Jack Young's retirement from speedway was announced at Rowley Park on the December 1963 evening when he won his final South Australian Championship.
Those present at Jack Young's funeral service in Adelaide on Tuesday September 1, 1987 heard the following words read by former Rowley Park promoter Kym Bonython: - "Today we have come here to honour our good friend Jack Young. Jack was a legend in his own time. He brought glory not only to this State but also to this country. He fought the good fight and he always fought it cleanly.
With his smooth, skilful style of riding, he carried all before him, and continued to do so throughout the world for all the years he remained as a competitor. Who will forget his legendary matches against the likes of Bob Leverenz, Merv Harding, and later against the English world champion Peter Craven at Rowley Park? This was speedway at its breathtaking best, and Jack always gave 100 per cent.
"Not for Jack the high life of a World Champion beloved literally by millions. Instead, he preferred a quiet day out in the gulf with his line in the water hoping to tempt the passing fish. I think that anecdote that appeared in last Saturday's Advertiser about him using his World Championship trophy to store his fishing sinkers epitomised his attitude to fame and fortune that was so eagerly sought by others."