Grenville Anderson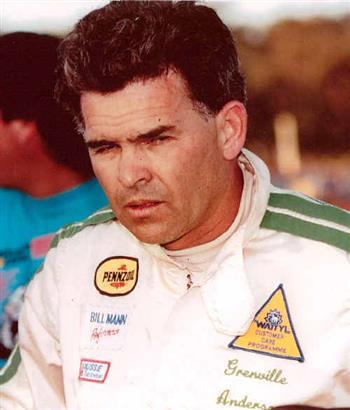 Inducted 2007
One of Australia's fastest and exciting Super Sedan drivers, Grenville Anderson began racing a 1957 Vauxhall Velox at the old Surfers Paradise Speedway and steadily progressed to an XU-1 Torana. In 1975 Anderson's father purchased a stroker motor from Bill Mann and success was instant with wins throughout New South Wales and Queensland.
NSW North Coast businessman Peter Croke bought the XU-1 and kept Anderson on as the driver, the combination won the 1976 Australian Title at Rowley Park, placed fourth a year later in Tasmania while also winning the NSW Title at Goulburn and took out features in Newcastle,
Uralla, Lismore and Toowoomba. Anderson won his second Australian Title in 1978 at the Claremont Speedway in Perth and finished second in 1979 at Toowoomba bouncing back to claim the 1980 Title at Bagot Park in the Northern Territory. Anderson rolled his Torana while defending his title at Newcastle in 1981 and in 1982 Anderson scaled down his racing commitments, driving the second car out of the Croke stable to second place in the Australian Championship at Brooklyn in Victoria. Croke became disillusioned with the way sedan racing in was turning in Australia and it took eight long years before Anderson returned to speedway in 1989.
Not long after another successful partnership was formed with car owner Murray Gegg, of Murray's race parts in Nerang.
The Chevrolet Camaro was replaced by a CJ Rayburn Chassis built by Nick Girdlestone with a Holden Commodore body and a Mann engine. The car was fast and set track records at Brisbane, Lismore, Newcastle and Canberra culminating in winning the 1993 Australian Championship at Latrobe in Tasmania and the East Coast Grand National before his career was tragically cut short following a crash at the Archerfield Speedway in Brisbane.
He passed away in 2004.