Jim Davies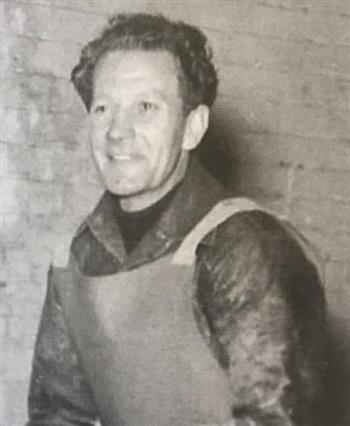 Inducted 2009
James Davies was born in Melbourne, on the 11th of October 1915. Son of William Davies, painter, and Emily Davies, housewife he had one older brother, 3 younger brothers and 1 younger sister.
Davies rode in Victoria pre-war but was resident in Sydney post- war.
Warragul grass track meeting on 28/12/35 - "Jim Davies and his passenger, Jack Gorman, had miraculous escapes in the trials this morning. Davies, who was one of the first riders on the track, lost control of his side-car outfit when the steering damper broke at the tank connection. - Crashing into the outer fence at 70 miles an hour. Davies was catapulted from his machine and sent somersaulting along the turf."
Davies rode at the first Romsey grass track meeting on 15/3/37. Won the 1940 Victorian 1 mile Sidecar Championship at the Olympic Park Speedway in Melbourne on 20-4-1940. (The Age reported this was Davies third 1 mile Victorian Sidecar Championship)
He also raced in the 1946 New South Wales 4 lap Sidecar Championship at the Sydney Sports Ground on Tuesday 1 January 1946. The title was staged over four heats and a final. Davies was drawn against F. Smith and Em Steward in the fourth heat.
Broadmeadow Speedway Newcastle programme 9/3/46 "Jim Davies, the topliner of the Sidecars, has had many years experience in Speedway racing. Holder of the Victorian Sidecar Championship and also an outstanding rider at both Sydney and Newcastle. Jim's week is taken up riding Wednesday and Friday nights at the Sydney Sportsground and competing here every Saturday"
Davies appeared, along with Jack Carrauthers, at the newly opened Maribyrnong Speedway, Melbourne on Saturday 7/12/46. A magazine advert which appeared on 15/7/47 "Australian and Victorian Dirt Track Sidecar Champion Jim Davies wins on a Wager special tuned JAP." Bill Wage rwas a motor engineer and auto electrician in North Carlton, Melbourne.
Davies won the Victorian 3 lap Sidecar Championship at Maribyrnong on 13 March 1948 and the Australian Sidecar Championship at Kilburn on 13 February 1948. He equalled the three lap record at Maribyrnong on 22/1/49. Davies and Peter Speerin left Australia for England on 14/2/53, the first Australian sidecar riders to race in England since Alan Bruce and Keith Horton circa 1929, 30.
He passed away on the Gold Coast on 21 July 1994.