John Sidney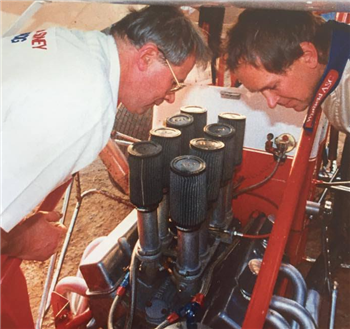 Inducted 2008
John Sidney's racing career began in 1961 as an apprentice motor mechanic for legendary race engineer Jack Godbehear. Two years later Sidney began racing Speedway Sedans and won the Victorian Production Car Title in 1967 while setting up Improved Motors.
He also drove supercharged for Alf Beasley and built and raced Victoria's first V8- powered Sprintcar.
Oval Track Racing Equipment and Development Pty Ltd was formed as a separate entity on the same premises as Improved Motors to better cater for speedway clientele. The enterprise was the catalyst for the in-house production of Sidney's own OTR chassis designs for Sprintcars and Speedcars while at the same time produced a full range of OTR suspension components-.
A legendary partnership was formed in 1984 with Max Dumesny driving the OTR house car. The pair won straight away with victory in the Victorian and South Australian Championships. The John Sidney built, Chev-powered OTR team won the 1987 Victorian Championship as well as 14 local main events and became the first Australian team to win on American soil.
In 1988 the team secured Valvoline sponsorship, which carried them (now billed as John Sidney Racing) to victory in the 1991 Australian Sprintcar Championship, 1990, 91 and 93 World Series Sprintcars Championship, 1992 and 94 Grand Annual Sprintcar Classic.
Due to increasing involvement in NASCAR racing (with victories in the 1993, 94, 97, 98, 99 and 2000 championships) and a Single car entry in the Australian Touring Car Championship (first privateer at Sandown and Bathurst in 1996) Sidney began to wind down his involvement in JSR Chassis around 1995 but continues building Sprintcar and Speedcar engines with Dumesny winning the 1998 Australian Title with a JSR engine.