John Boulger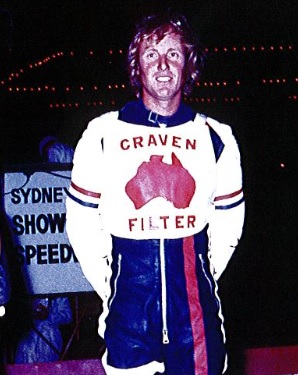 Inducted 2011
In the 1940s and 50s John Boulger's father, Tom, was a mechanic for international Solo rider Merv Harding, who was a workmate of Tom's at Holden. Later Tom was self-employed as a taxi truck driver and transported Johnny Oram's bike, who lived across the road, to Rowley Park Speedway.
So John was always around Speedway riders and bikes. He started riding around the Adelaide sand dunes and began racing at age 17, when he went halts with mate Brenton Hanks, in a Scramble (Motorcross) Sidecar with Boulger as passenger.
After one season he sold his half and bought a Motorcross bike and following a few seasons he tried his BSA ESO out at Mildura's Olympic Park Speedway. During the winter of 1966 he acquired his first Speedway Solo Motorcycle and practised at Murray Bridge Speedway with the help of Harding.
During his first meeting at the Broken Hill Speedway in 1966/67 he lost an oil tank and seized the engine. John tagged along with Sidecar champion Len Bowes for a meeting at Melbourne's Speedway and almost as a favour to Bowes the Promoter allowed Boulger to compete but wasn't expecting much from the novice rider. He was in for a mighty shock as Boulger broke the track record during his first ride!
Boulger made his Rowley Park debut on the 29th of October 1966 in a season of tough competition, which Bougler says made him a better rider. As well as local stars Jack Scott and Charlie Monk, Hall of Fame promoter Kym Bonython had brought in Swedish star Gote Nordin and young English riders Ray Wilson and Eric Boocock as resident riders. Despite the strong opposition Bougler was a star himself right from the beginning and after only a few weeks Wilson asked him to ride in England for his fathers team at Long Eaton in Nottingham. Wilson paid 150 pounds towards the boat fare for John and his bike and on the 29th of February 1967, at just 21 years of age he left for England having just finished his apprenticeship as a plumber and arrived a month later. Arriving Monday morning Bougler was given four rides the following night and the next Friday he was given two rides, which he won so he was rushed into the team as a reserve. During his first full British League match he scored a paid maximum with three wins and a second to captain Ray Wilson. SA Champ Charlie Monk was a top rider in the League and came down from Glasgow to help in the pits. Bougler ended the year as the Archer's third heat leader out of a team of six. The team moved from Long Eaton to Leicester and John had a very successful career in the UK with a few years at Cradley Heath also. He qualified for the World Final in 1973 and 1977 and was captain of the first Australian squad to win the World Team Cup at London's White City Stadium.
Back home Bougler teamed up with John Lewis from Maxwill Motors in 1970 and won the South Australian Solo Championship nine times, equalling the record of twice World Champion and Hall of Fame inductee Jack Young. He also finished second twice and third three times.
He finished second in the Australian Championship to Jim Airey in 1970 at the Sydney Showground and won the big event the following year at the Claremont Showground, passing local hot shot Chum Taylor on the final corner of the deciding heat. A third place at Rowley Park in 1972 filled the gap before winning at the Showground in 1973 with a third in 1974 and 1979.
After retiring from Motorcycle racing in 1982 he raced the Tavern 63 Sprintcar for the 1982/83 season and then sat out until he was offered the drive of the John Walsh Sesco Speedcar from 1985 to 1989 winning the prestigious Harry Neale Memorial from Gary Dillon and Phil Herreen at Speedway Park in 1986/87 with a second place in the 1989 SA Speedcar Title. After Speedcars he fed the bug by racing Dirt Karts and became a riding coach for young Solo competitors.