Fred Tracey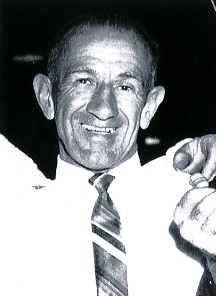 Inducted 2011
Maribyrnong Speedway was opened in 1946 and soon renamed Kirjon Speedway by the promoters. The venue lay ideal until Fred Tracey gained control circa 1951, renaming it Tracey's Speedway.
Tracey also raced Solo Motorcycles winning the 1947 Victorian Solo Championship.
Many top names raced at the venue including Bob Tattersall and Jimmy Davies from the USA, Frank Brewer, Graeme McCubbin, Alf Beasley, Jack O'Dea, Lea Francis, Aub Cherry, Ray Fechner. Kym Bonython won the Speedway's first 50-lap Speedcar Derby. Surprisingly only a handful of drivers died at the venue but unfortunately Alf Beasley was one of them in 1958.
Tracey helped breathe new life into Australian Speedway when heavy Stock Cars were banned by the Victorian Heath Commission in the 1950's, thought to be far too dangerous for patrons with large external roll and crash bars penetrating makeshift safety fences, Fred Tracey devised a plan to purpose build a new type of Hot Rod. These machines were much lighter and had the roll bars concealed inside the body, with the front and rear crash bars only the width of the chassis and sidebars no wider than the tyres. McCubbin's father, Tracey and drivers who wished to race again began building these much lighter machines to be called Hot Rods.
These cars proved safer and more popular with spectators and by 1958/59 there were up to 35 cars competing on speedway tracks in Victoria eventually leading to Sportsman, Super Modifieds, Modified Sprintcars and finally Sprintcars.
A drive -in theatre opened next to the Speedway and their management began to complain to the local council about the noise and dust coming from the speedway. Tracey lost the legal battle in 1964 and was forced to close the track.
Considering the previous management were forced to shut the gates, it's a testament to Tracey's excellent management and promotional skills that he was able to successfully operate the track for 12 years.