Phil Crump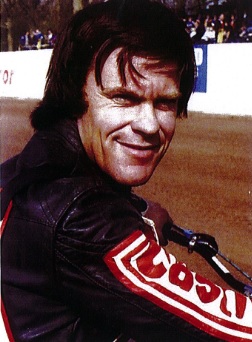 Inducted 2009
Phillip John Crump was born in Mildura, Victoria on the 9th February, 1952. Crump had his first ride on a speedway machine in an after-the-meeting practice in November 1970 and later that seasn rode during three meetings at Rowley Park Speedway in Adelaide.
The following season (1971/72) he regularly raced at Rowley Park on Friday nights (10 meetings), Brooklyn Melbourne on Saturday nights, and Olympic Park in Mildura on Sunday nights.
He first went to England in 1971and joined the British League Division Two side Crewe. There he rode in 38 matches for an average of 8.98, with 6 full and 6 paid maxima. Crump also appeared as a guest rider in 8 division one matches. He also scored 11 points (5th) in the Second Division Riders' Championship.
ln 1972 Crump averaged a massive 11.13, with 21 full and 4 paid maxima from 41 matches for Crewe, and also doubled-up with first division King's Lynn, averaging 7.30 from 19 matches with 1 full, 2 paid maxima. He won the Second Division Riders' Championship at Wimbledon on the 14th of October, after a runoff with Arthur Price. Crump scored 12 points from four wins after a first race engine failure.
"ln its comparatively short history, Division Two has succeeded in Unearthing its fair share of characters whose crazy exploits will go down in the folklore of the sport. Title favourite tonight, Australian teenager Phil Crump (Crewe) has been riding for half the season with a broker scaphoid bone in his right wrist. Doctors diagnosed the problem when Phil went to find out what was the origin of the dull ache which had been troubling him for a fortnight or more. Before he could say, "Tie me Kangaroo Down, Sport" they had whipped the offending mitt into a plaster cast. A slightly dazed Phil took only a little while to suss that one out. He scratched his head, realised that he couldn't be expected to go on piling points with such an encumbrance, so he and Crewe team mate Garry Flood chipped off the plaster with a hacksaw. "She'll be right, mate," said Phil. "I can have it seen to ... at the end of the season." (Martin Rogers, Division 2 Riders' Championship programme at Wimbledon 14/10/72)
Crump returned to England in March 1973 and moved full time to King's Lynn but after only one match he broke a wrist in an accident changing a car tyre and missed the whole 1973 British League season. This wrist injury was to trouble him for the rest of his career.
When he returned to the British League in 1974 he joined Newport where he became a cult figure with the Welsh fans who nicknamed him "SuperCrump". Averaged 10.79 from 35 matches - 14 full, 2 paid maxima - and finished third with 12 points in the British League Riders' Championship. He also finished second, with John Boulger, in the 1974 World Pairs Championship. He reached his zenith in league racing the following year, 1975, when he upped his average to 11.17 from 33 matches, 22 full, 1 paid maxima — and finished second, again with 12 points in the British League Riders' Championship. He won eight major open meetings and his first of four Australian championships at the Sydney Showground on the revolutionary 4 valve Street/Tighe Jawa. He also placed 6th in the World Speedway Championship.
In 1976 he scored more points in British League matches than any other rider, although his average slipped slightly to 10.68 - 35 matches. 14 full, 1 paid maxima. He also won three major open meetings and was a member of the 1976 World Team Cup winning side and finished 3rd in the World Speedway Championship. In Australian he was runner up in the Australian Championship.
After finishing second in the Australian Title Crump transferred to Bristol in 1977 but on a wet track at Sheffield on September 15,1977 he fell and broke his right thigh which caused him to miss the last 11 matches, but more importantly the injury just took that razor edge from his riding for the rest of his career, despite the fact he remained one of the World's leading riders. Averaged 9.49 from the 24 matches he completed.
He resumed riding at Mildura in January 1978 and later returned to Bristol where he was again the highest point scorer in the British League and ninth overall in the BL averages with 9.99 from 35 matches (4 full, 2 paid maxima). Crump joined Swindon in 1979 having just won the Australian Championship in Mildura (the first occasion it was held at Olympic Park) and increased his average to 10.36 from 31 matches (11 full, 1 paid maxima) to finish third in the BL averages.
In 1980 he chose to miss the first half of the British season because of business commitments in Mildura with a runner up position in the Australian Championship but he returned to ride in 16 matches in England for a 9.41 average (1 full, 3 paid maxima).
Crump won four major open meetings and finished third in the BL averages with 10.39 from 29 matches in 1981 (3 full, 1 paid maxima) and was runner up in the Australian Championship. His career British League first division average was 9.44 for 1972-84, and 10.14 from 1974- 84. Crump finished second (for the fifth occasion) in the Australian Championship and later won his final Title at Murray Bridge Speedway in 1988.
On or off the track he always adopts a no-nonsense, wholehearted approach. He was a senior member of Jason's Crump's successful Speedway Grand Prix support team and is a highly regarded engine tuner.