Mike Figliomeni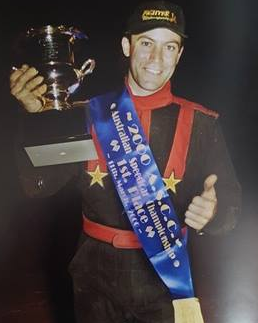 Inducted 2011
Michael Figliomeni has won the Australian Speedcar Championship on four occasions, along with one second place and one third, statistically placing him as the greatest Midget driver in WA history.
He achieved those victories in three states, WA (1996,) Victoria (2002,) and twice in Queensland (1995 and 2002.) He won his home State Title on seven occasions, five of them in a row. 32 career wins have come his way at his old stomping ground of Claremont Speedway, including two wins in the Marlow Grand Prix. He won the New Years Speedway Derby four years in a row from 1992/93 to 1995/96 and then again back-to-back in 1999/00 and 2000/01.
Figliomeni made the national evening news when he flipped his racecar down the length of the Claremont main straight and spent the weekend in Sir Charles Gairdner hospital and a great deal longer considering his future in the sport. He returned in a car of his own design and construction with a Beast engine.
Some solid results gained him the label of 'Mr Consistency' so enough was enough and he purchased an ex-Steve Brady Fontana powered by a McEvoy resulting in a second place to Neville Lance at the opening meeting of the 1992/93 Perth season. A few meetings later won his first WA Championship in a calculated drive and thrilling scrape with Tom Watson Jr. He ditched the consistent tagline and picked up the 'thinking driver' label, seemingly able to wait for the last possible moment before snaring the lead from his adversaries.
In Sprintcars Figliomeni won the Krikke Boys Shootout in 1997/98 and 2000/01 with a second place in 2003/04 and 2004/05. He finished third in the 2001 WA Sprintcar Championship.
The quietly spoken and unassuming Figliomeni was taken from us way too soon during the opening meeting of the Perth Motorplex on October 28, 2006. He had won the first two Speedcar events on the program, then complained of feeling unwell and collapsed and passed away soon afterwards. To say that the entire Speedway fraternity was in shock was a real understatement. Michael didn't drink or smoke and was one of the fittest competitors out on the racetrack.
Magic Man 34 tribute race honours Figliomeni at the Perth Motorplex each year and Sydney driver Mark Brown won the first event. "I don't know what to say," said Brown after his win. "It's amazing to race at a place like this in front of such a great crowd. "The money ($12,000 to win) means nothing to me. It's all about racing in the memory of Michael Figliomeni, who was probably the greatest - and cleanest - driver we have ever seen."