Dennis Nash and Jeff Gittus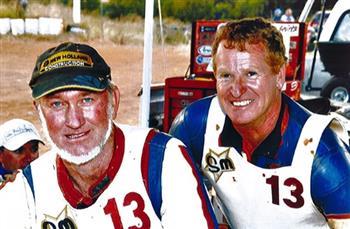 Inducted 2011
His father Roger and Uncle Arthur both raced at the Yanchep circuit and Dennis Nash began riding Motorcross on a BSA Silver Star.
He commenced racing at Claremont Speedway in 1967/68 as a passenger for Danny Smith at the tender age of 17 and then progressed to become the main rider aboard a Triumph 650, then a Stan Dyson Vincent, a Suzuki 750 water cooled machine, Honda 2 Valve, 4 Valve also going on to design and build the Nashmobile racing frame.
He was third in 1973 Australian Sidecar Championship at Rowley Park and then won his first National Title at Newcastle with Russell Hearn in 1976 becoming the first Western Australian rider to win the event. He was second during his title defense at his home track Claremont Speedway and runner up again in 1980 at Avalon Raceway, Geelong, this time with Dennis Mortimer, before bouncing back to win the title at Claremont in 1981.
Two years later it was his again, this time at the Northline Speedway in Darwin before winning back-to-back Championships with Jeff Gittus in 1988 at Claremont and 1989 at Mildura. His home State Championship record in WA is outstanding, winning nine times from 1971 to 1992 (1971/72, 1975/76, 1976/77, 1978/79, 1980/81, 1982/83, 1986/87, 1988/89 and 1991/92), two seconds (1985/86 and 1987/88) with five thirds (1969/70, 1972/73, 1973/74, 1979/80 and 1989-90) He has also won the Australian Best Pairs on three occasions and won 1989 and 1990 Castrol Cup at Wayville Showgrounds in Adelaide, the Tom McQuade Sidecar Classic three times in 1982/83, 1988/89 and 1990/91 and many other major events. He had five passengers during his career: Ray Barber, Ken Simmons, Russell Hearn, Dennis Mortimore and Jeff Gittus. Dennis and Jeff retired in 1992 and these days Dennis operates his own Earthmoving business in Perth.