Peter Gurbiel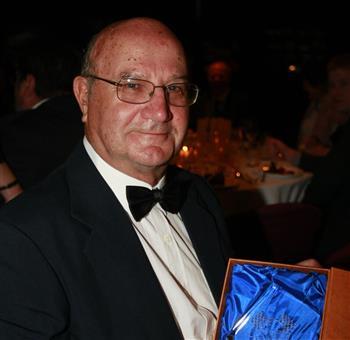 Inducted 2009
Becoming one of Australia's most successful and highly respected speedway promoters was the furthest thing from Peter Gurbiel's mind when he had his first taste of speedway action as a Canberra teenager.
Tinkering around, repairing the dents and dings from family and friends' motor vehicles in his 'own backyard, lead him to having a crack at stock car racing at Mt Ginn Raceway in Canberra.
As with most of the things Peter Gurbiel has undertaken in his life, he achieved success in his stock car racing. That success came through a determination to be at the top and by being equally as determined to leam as much as he could about stock cars and ways to make the cars go faster, stronger and longer - an attitude that he has carried into everything he has done, including establishing his own smash repair business at the young age of 19.
He won a number of feature events both in the ACT, Sydney Showground, Liverpool and Westmead and travelled to New Zealand to compete against the best the Kiwis had to offer in the stock car category.
The step from speedway competitor to speedway promoter came as a natural progression when the Canberra Stock and Saloon car club, the club he was President of, was told of the imminent closure of the Mt Ginn Circuit. On behalf of the club, he successfully negotiated with Bernard Morrison a local businessman who owned a sheep station on the outskirts of Queanbeyan to finance the construction of a Speedway on his property with the dub support. That speedway opened in June 1970 and became known as Tralee Speedway.
Peter started promoting firstly as manager for the owner and shortly after was offered the lease of the complex to become promoter in his own right. He accepted the challenge and adopting the method of management that was his trademark, he firstly set about learning all he could about his new career.
Under his guidance, Tralee Speedway began to grow - grow in competitor ranks, grow in spectator numbers and grow in reputation for not only hosting traditional race meetings but also introdudng exciting innovations for race meetings.
He arranged to have a large electronic display timer built and installed at the circuit, visible from all areas of the circuit, a first of its kind at the time. Several of those same timers today are located at numerous speedways in Australia. His smash repair business Region Body Works played an important role in the operation of Tralee Speedway as things began to expand by introducing his own stable of race cars to boost the numbers and standard of race cars and competitors.
He engaged drivers like Ken Barlow, Max Kennerley and Peter Taunton. That move led to the introduction of the then famous Berco Team which launched Dave Wignall, David House and Howard Revell to name a few and that alone launched Tralee into the national arena with the reputation of having the best sedan car drivers in the country.
The epic team racing battles between Tralee Speedway and Liverpool and the USA v Australia matches were history making events for Speedway Peter Gurbiel began achieving success for Tralee Speedway and began to receive recognition from race fans, competitors, sponsors and fellow Australian Speedway promoters. He was that time on the executive committee of the ASPA.
In 1975 Peter sold the Speedway lease and moved to Qld, a move that was short lived however, as soon after, he "bumped" into John Laverick, one of the directors of Carrington Slipways in Newcastle and owners of the Jerilderie Park Speedway. Laverick invited Peter to visit the Newcastle venue that had been designed on Tralee. The result was that in June 1976, the Gurbiel family moved to Newcsatle, purchased the complex and renamed it "Newcastle International Motordrome".
Using the knowledge, skills and experience he had gleaned, Peter Gurbiel introduced innovations to speedway racing that had the competitors and race fans eager to turn up for race meetings week after week. The Newcastle International Motordrome hosted many State and National Championship events in the Peter Gurbiel era in a wide range of categories including speedway motor cycles, sidecars, sprintcars, super sedans. Speedcars, V8 dirt modifieds and Formula 500's to name just a few.
But the events that really topped the bill with Newcastle speedway fans were once again the famous Australia v USA Super Sedan Test Matches. The events became so fiercely contested and so popular that Peter Gurbiel and his management staff had to lock fans out on occasions and put up the 'house full' sign.
His promotional expertise was quickly recognized by the speedway industry. His fellow promoters encouraged him to take on senior executive roles in the Australian Speedway Promoters' Association. Working with well- respected promoters like Bill Goode. Mike Raymond, Con Migro and Owen Bateman, Australian speedway fans experienced a golden era with countless international speedway identities attracted to Australia and competing at speedway meetings all over the nation.
He was elected National ASPA secretary, a position he held for 17 years and was one of the instigators for establishing the National Association of Speedway Racing (NASR) and was a director in the early formative years.
Ever conscious of the need to change with the times, Peter Gurbiel regularly 'fine-tuned' the presentation of events at the Newcastle International Motordrome and the venue achieved the reputation as one of the NSW Hunter Valley's leading event centres. Expos, stunt shows, charity events, concerts and naturally the speedway race meetings all were part of the Newcastle International Motordrome events calendar under Peter Gurbiel's management. A 'fun park' and a Speedway Supporters' Club clubhouse - were constructed and operated successfully.
Local television station NBN Newcastle used a speedway meeting at Newcastle International Motordrome to host its first colour TV live outside broadcast. Recognizing the need for Speedway on television, Peter created his own TV production arm of his company and recorded nearly all race meetings held at the complex from 1980 and most of the footage has been retained for posterity. But as with everything in life there must come an end and when in 1997 Peter Gurbiel and his family decided that after 25 years of promoting and managing Speedway, it was time to finish up, the complex was sold,
It was a decision with no regrets. Peter Gurbiel had stamped his mark on speedway in this country as one of Australia's longest serving speedway promoters and has earned his place in the Hall of Fame.