Graeme McCubbin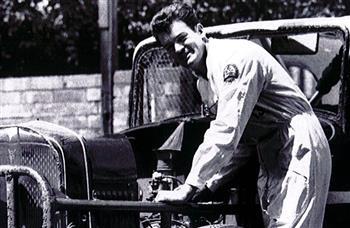 Inducted 2011
His father, who rode motorcycles in trials and long track events, introduced Graeme McCubbin to racing. His first choice was to race Solos, however his parents considered this far too dangerous.
When heavy Stockcars were banned by the Victorian Heath Commission in the 1950's, thought to be far too dangerous for patrons with large external roll and crash bars penetrating makeshift safety fences, Fred Tracey devised a plan to purpose build a new type of Hot Rod.
These machines were much lighter and had the roll bars concealed inside the body, with the front and rear crash bars only the width of the chassis and sidebars no wider than the tyres. McCubbin's father, Tracey and drivers who wished to race again began building these cars and with his parents approval at age 18, Graeme was allowed to race a 1936 Ford V8 Sedan while working as an apprentice at the local Ford Dealership in Footscray. The Hot Rods became very popular and by 1958/59 there were up to 35 cars registered in Victoria. During a racing trip to the States with Bill Willis the two mates saw a new generation of chopped and channeled 1932 and 1934 B Model Fords, with lightweight T Ford Chassis and engines fitted with Edelbrock Twin and Triple carburetor mainifolds.
When they returned McCubbin and Willis began building an even lighter car known as a Sportsman. A few years later McCubbin built the infamous #13 that took on the South Australia Stock Rods in the annual SA verses Vic challenge held at Rowley Park in November 1963 with Ron Clarke (Vic) beating home Ray Skipper (SA), Marshall Sargent (USA) and McCubbin. The Adelaide drivers soon began building their own versions of the lightweight Victorian Sportsman.
McCubbin traveled north to win the 1962 NSW Championship and a year later he returned for the very first Australian Championship at the Windsor RSL Speedway in 1963 and finished third. He also placed third in 1965 before breaking through for a victory at Warrnambool in 1972. He slipped past Phil Herreen with 10 laps remaining when the South Australian champion threw a tread in the tyre and was baulked by a lapped car. The #13 started 13th and survived to beat Herreen whose tyre was now down to the rim. McCubbin then announced his retirement during the presentation however he came back to finish second in the Australian Title in 1975 and 76.
After 24 years of competitive racing he retired again in 1978 with a persistent back complaint. Garry Rush substituted for McCubbin in the Jack Maggs HM Headers Sprintcar during the 1978 South Australian Championship and came from the rear of the grid to win.
When McCubbin had recuperated Maggs and Rush enticed him back into the drivers seat alongside Rush to form the potent HM Headers two-car team. McCubbin was leading the memorable 1979 Grand Annual Sprintcar Classic until a slowly deflating left front tyre gave Rush the opportunity to pass him for a Classic 1-2 team finish.
Later that season McCubbin emulated Rush's Rowley Park feat by winning the South Australian Championship. He also won the very first feature race at Speedway Park when it opened later that year and finished third in 1980 Australian Title at Speedway Park. He finallv retired later that year.