Ray Revell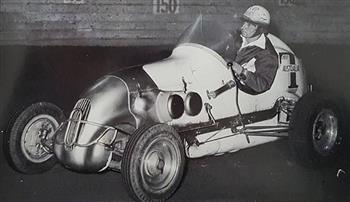 Inducted 2007
Ray Revell was born at Newtown, Sydney in 1911 and although he had shown promise as a sprinter and Rugby League footballer, he worked as a motor mechanic and turned to speedcar racing in the mid-1930s. Gaining prominence in the sport during the years of World War II, he played an important part in its revival once peace had been restored.
At a time when many drivers favoured air-cooled, twin-cylinder motorcycle engines to propel their midget dirt- track racers, Revell was open to new ideas. In 1946 he experimented with jet propulsion to assist his conventional engine. With a brace of rockets (mounted on either side behind the cockpit) generating extravagant plumes of smoke, his car proved a spectacular drawcard for promoters in Sydney and Brisbane. Revell won his first of five Australian Speedcar Championships in 1947 and
a year later traveled to the United States and raced on the West Coast with some success. He became the first Australian driver to own and import an Offenhauser Speedcar and thus equipped won four consecutive national championships in 1950-53. Revell continued to race into the early 1960's becoming the undisputed winningest driver at both the Sydney Showground (54 wins) and the Sydney Sports Ground (28 wins) and fifth overall at the tight quarter mile Brisbane Exhibition Ground (31 wins) collecting three New South Wales Championships (1947, 49 and 50) and two Queensland Championships (1946 and 49) for a total of 116 career feature wins.
Possessing quick reflexes and the ability to sense danger and avoid collisions Revell acquired a reputation for safe driving despite suffering a serious injury in a racing accident in
Revell dabbled in stock-car racing. He also entered his distinctive, blue- and-white Offenhauser in road-races at Mount Druitt and Bathurst; the car's two-speed gearbox and tiny wheels, while suitable for the speedway, proved serious liabilities in its three appearances at Bathurst. In October 1956 Revell raced a Cooper-MG at that circuit. His fame boosted his motorcar repair business, which was finally based at Woolloomooloo, Sydney.
Ray Revell died of cirrhosis of the liver on 18 November 1968 in Sydney.