Johnny Stewart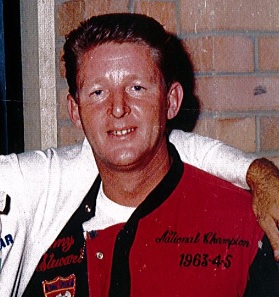 Inducted 2007
This is the man they call 'Super' Stewart. Johnny Stewart survived more horrific wrecks than any other. But on his night he was unbeatable.
He is the third highest winner at the Showground with 25 wins. Three consecutive times he has been crowned our National Champion, 1966, 1967 and 1968.
In the two victories in Brisbane, one was the 1965 Queensland Championship. In 1967 he won the New South Wales Speedcar Championship at the Sydney Showgrounds and in 1968, he won the Craven Filter state round of the Australian Championship.
On the 1/2 mile Westmead winter season circuit, he was the absolute back mark champion and the all-time winningest driver with 18 victories, and at the end of the 1963 season, he held the 1, 2, 3, 4, 5, 8, 10, and 12 lap track records in the mighty 'Big Berco'.
Over 50 career feature races came his way in a very colourful career.