Bill Goode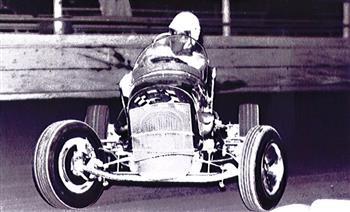 Inducted 2011
Bill Goode raced Stock Cars in the 1950s and soon progressed to the Mighty Midgets. He placed second to Lew Marshall in the first meeting of the 1955/56 season at the Brisbane Exhibition Speedway. Both of these drivers were competing in the encourage Speedcar race (B-grade race for new drivers) on October 29th. Just eight weeks later Goode won his first of many career feature races driving the #5 Holden.
14 years later Goode ended his career in a similarly spectacular way as he arrived on the scene. He won five feature races at his beloved Exhibition Speedway during the 1968/69 season, including the 50-lap Australian % mile Speedcar Grand Prix driving an Offenhauser. During the final meeting on May 31, 1969 Goode announced his retirement from active competition and that he was joining the board of directors of Empire Speedways (Qld.) Pty. Ltd.
When Frank Arthur passed away in 1972 Goode took over the promotional rights at the Ekka and operated the track until 1981, at once stage enticing Speedcar ace Blair Shepherd out of retirement to race a Ron Wanless Super Modified at the Exhibition in 1972/73.
In 1979 Goode, with partners Ron Wanless and Pat Gay, built the 'Astrodome' at Archerfield (now know as the Brisbane International Speedway), which Goode ran very successfully until the end of the 2000-2001 season.
He promoted numerous major events including Australian Championships in every division of speedway. Goode promoted the Australian Sprintcar Championship at the Ekka in 1975 and 1981 and the 1990, 1996 and 2001 events at the Archerfield venue. Brisbane International Speedway still stands and operates as the major track in Queensland.