Kathy Kelly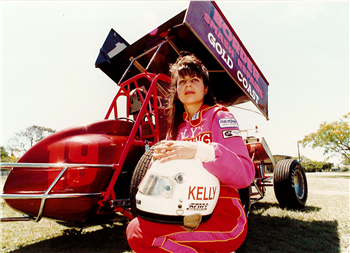 Inducted 2019
Beginning as a Sprintcar competitor in 1993, Kathy Kelly quickly showed her potential and became the first female to qualify for the A-Main at the Australian Sprintcar Championship in 1996. She backed that up again in 1997 as fourth qualifier in a field of 66 cars and recorded a top 10 finish which is still the best result by a female at the title. She retired from racing in 1998 when she had the first of her children, racing one last time to represent Australia in New Zealand in 1999.
Once her racing days were behind her, Kathy has devoted her time towards the administrative side of the sport, becoming proficient in a huge number of roles. In July 2000 she become co-promoter of Archerfield Speedway with husband John, working full-time at the venue since 2001. From 2007-2009 she was the driving force behind the SPA group that operated World Series Sprintcars for two seasons and Sprintcars Queensland have benefitted from her involvement as Secretary/Treasurer for many years dating back to the mid 1990's.
Nationally, in 2014 Kathy was appointed as the first ever female President of the Sprintcar Control Council of Australia, one of the most prestigious roles in the sport. She has also been involved in the Australasian Speedway Promoters Association since 2002, holding the Secretary/Treasurer position until 2014 and the Treasurer role subsequently.
A qualified accountant and tax agent, Kathy has also been active within Speedway Australia for many years, assisting with the successful transformation that the organisation has undergone in recent times.