Steve Brazier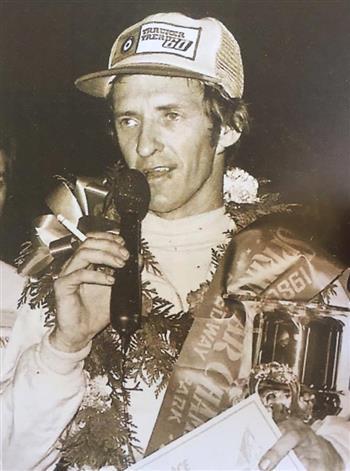 Inducted 2009
Steve Brazier was introduced to Speedway by his father, Stan, who raced Stock Cars in the 1950's and early 60's at tracks such as Westmead and Windsor. They would also watch Solo and Speedcar racing together at the Cumberland Oval in Parramatta and later at the Sydney Showground.
Steve took over the driving duties of Stan's #58 Buick towards the end of 1963 aged sixteen-andr a-half and then purchased a Stock Rod the following year. His father finally retired in 1968, while Steve took a few years sabbatical from racing to build a family home. Once the house was completed Steve purchased the ex-Terry Lewis Super Modified in 1971 and soon climbed through the ranks to win the 1972/73 New South Wales Modified Sprintcar - Championship at the Liverpool Speedway.
In 1974 Brazier purchased a Sprintcar in America from Mike McCreary and immediately won the Winfield Masters Tournament. From there he became one of the country's top drivers. A new Lloyd Sprintcar was acquired in 1977, placing 3rd in 1978 Australian Sprintcar Championship before winning back-to-back titles in 1979 (Warrnambool) and 80 (Adelaide).
Around this time Brazier annihilated the field during a USA verses Australia feature race at the Sydney Showground and raced in America earning a reputation as a hard, fast and highly competent racer.
During the early 1980's Brazier did not race regularly while he established a highly successful drum reconditioning business and helped guide his son Steve Jnr with his start in Sprintcar racing. He made a full time come back to racing driving a ex-Mark Kinser Gambler in 1985/86 winning in only his third meeting, a race he declared he had won 'for the boy.' It was almost a year to the day that Steve Jnr was tragically taken in a road accident just when he was coming into his own as a racer.
The following year Brazier defeated Danny Smith and Garry Rush to win the 1986/87 NSW Sprintcar Championship at PCR. Brazier never officially retired, however he stopped racing in 1987 and contemplated a comeback that never eventuated. Currently he is the crew chief for his son Garry, aiding him to 6 Australian Sprintcar Championships (1994, 95, 97,00,08 & 09) and the 1993/94 World Series Sprintcars Championship. Grandson Jordyn is now also proving to be a competitive force in the Sprintcar division, continuing the Brazier name into a fourth generation of competition.
His son was quoted on the podium after winning his sixth Australian Championship at the Perth Motorplex as saying, "My dad just gives me the best of equipment, what else can a driver say." Steve's contribution to the sport as a champion racer and car owner/crew chief is a family legacy.