Alan Felsch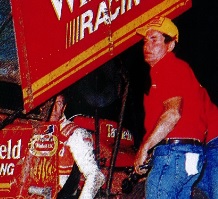 Inducted 2011
Alan Felsch first witnessed Speedway as a spectator when he went to Westmead Speedway and the Sydney Showground with Peter Genner. He was a fitter and turner by trade doing his apprenticeship with NSW railways. He began helping out Dick Briton with his Hot Rod and Super Modified Jaguar and Chev engines attracting a lot of attention with Briton's 1964, 66 and 67 Australian Championship victories. In fact Felsch has been responsible for many wins in the National title with another two by Briton in 1971 and 75, Bob Tunks 1968, Jim Winterbottom in 1969 and 74, Steve Brazier in 1979 and 80, George Tatnell in 1988, Todd Wanless in 1996 and Brooke Tatnell in 2005.
Felsch was a long time engine man to George and Brooke Tatnell. The association began when George purchased a car from Bob Rutley. Felsch was looking after the engine so George called on his expertise. Felsch travelled with the Tatnell's on the World Series Sprintars Championship and recalls the 1-2 finish at the Wayville Showgrounds as one of his greatest moments in the sport because the track was a neutral ground to all competitors.
Felsch also helped George to win the first two World Series Sprintcars (known as the Winfield ASC Series) in 1897/88 and 1988/89. Brooke continued the family tradition in 1994/95, 1995/96, 1999/00, 2000/01 before joining the Krikke Motorsport team in 2005/06. Felsch enjoyed over 50 World Series Sprintcars round wins with the Tatnells.
Fie helped Skip Jackson get his start in Compact Speedcars as well as preparing engines for Peter Genner, Allan Adams, Ian Samms, Geoff Pickering, Danny Smith amongst many others and still does the engines for John Weatherrall and even supplied some engines for Garry Rush towards the end of his career.
Felsch has enjoyed an extremely long and successful career in Speedway as an engine builder with many race wins to his credit.