Dick Briton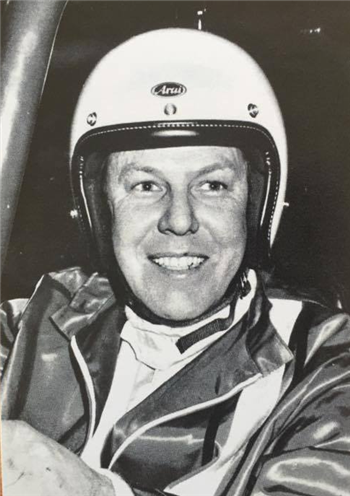 Inducted 2008
In 1961 Dick Briton and Ian McManus started a mechanical workshop in West Ryde and both had the desire to go racing.
They were told of a 1935 Oldsmobile that was partly submerged in the Parramatta river, which they pulled out and began modifying. They shared the driving duties until the end of the 1963 winter season when the car was sold to Denis Barry and then built their own cars. Briton began working on his famous tubular frame Jaguar six-cylinder #6.
In front of the biggest crowd of the season at the Windsor RSL Speedway Briton defeated defending champion Bill Willis to win the 1964 Australian Hot Rod Championship (second year of the event). Briton and Willis sliced their way through the 18-car field after starting 12th and 11th respectfully. At age 27 it was his first major season behind the wheel after sharing drives with McManus.
Also in 1964 Briton won four races in three weeks at the Claremont Speedway in Western Australia, claimed the lap record of the Sydney Showground and won the 50-lap Mainline Transport Trophy.
He was runner up to Bill Warner during the 1965 Australian and New South Wales Championship before selling his Jag to David Rockford in WA and building a new car with a Corvette engine and became known as the 'Corvette Kid.'
During this time Briton and Warner were the only two who ran the powerful Chev Corvettes and events, particularly at Westmead, became virtually match races between the two heavy hitters, with only one driver giving them trouble, a young Garry Rush.
Following victory in the Australian Championship in 1966 and 67 at Westmead he became known as 'King Richard' and 'Richard the Lion Heart'.
He also won in 1971 at Sydney Showground and created more history in 1975 when he became the first man to win an Australian Championship (billed as the Australian Modified Sprintcar Championship) in a fully-fledged Sprintcar driving the Ward car out of California at the Brisbane Exhibition Ground. From that point on everyone wanted a Sprintcar and Super Modifieds were gradually phased out.
Following the title his Winfield Sprintcar remained idle while he considered his options and was offered a drive of the Sid Moore Berri Fruit Juice #96 for the start of the 1975/76 season and immediately won the first two features of the season. Briton drove for Barry Lewis attempting to defend his crown at Latrobe however contact with fellow NSW driver Terry Becker ended his run in the feature event. During the ensuing years Briton rebuilt his 1975 winning machine, drove for Dave Clarke in the #88 and #6 Super Modified and steered an Allan Wheeler built Sprintcar with wins at Parramatta City Raceway, Sydney Showground and Liverpool Speedway with a third place in the Australian Championship held in Brisbane during 1981 before effectively retiring in 1982.
Briton's five Australian title victories places him 2nd only to Garry Rush in the all-time winners list with Garry Brazier third (4 wins), Brooke Tatnell and Max Dumesny fourth (3 wins).
Briton also stood on the podium of four NSW Championships from 1965 to 1979 (although he never won one) and won three (1970, 72 and 76) Queensland Championships with a third in 1964. He also tried his hand at Stock Car racing and won a demolition derby at Parramatta.