Frank Arthur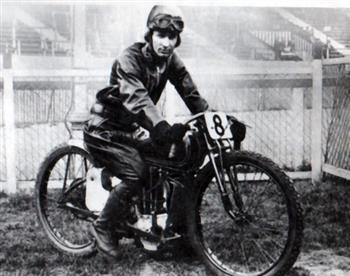 Inducted 2007
Frank Arthur was born on 12 December 1908 at Lismore, New South Wales. The family moved to Crows Nest, Queensland, where Frank was brought up on a dairy-farm.
He had already shown ability as a motorcycle racer when sporting entrepreneur A. J. Hunting opened 'the world's first' quarter-mile (0.4 km) speedway in the arena of the Brisbane Exhibition Ground in 1926.
Soon after Sydney's Speedway Royal opened at the Showground and by 1927 the boom had spread to England. Hunting organised a group of established Australian riders, including Arthur, to race in England in 1928 where Arthur had a successful and lucrative season (top riders won as much as £250 at a single meeting). Returning to Queensland, he married Edna Lyle Collier Irving on 21 December that year at the Ann Street Presbyterian Church, Brisbane.
On subsequent tours of England, while he continued his solo career, Arthur was always accompanied by at least one other Australian rider under contract.
The winner of two British championships, he and Huxley dominated international speedway racing until 1932. Arthur was tall and thin, 'almost to the point of gauntness', diffident, with somewhat stooping shoulders, he could be easily mistaken 'for a curate from a none-too-well-nourished East End parish'.
He combined riding skills with business acumen. 'The last man in the world one would have thought to be a speedway rider', he was believed to be the most successful of them all in preserving his winnings.
Following the huge success of the Tests in England, where Arthur had captained four Australian teams (his four-man squad was known as 'Arthur's Tigers') - in 1933 he made an unsuccessful attempt to launch speedway racing in the United States of America. He retired next year.
In partnership with Johnny Hoskins and Bert Prior, he formed Empire Speedways Pty Ltd in Sydney and brought a British speedway team to race in the eastern States. To boost the four-wheel version of speedway, which had begun in England in 1932 and reached Australia in 1934, he introduced British midget-car drivers during the 1935-36 season.
Mobilized in the Militia on 13 January 1941 and commissioned acting Lieutenant next year, he served in Australia as a transport instructor until November 1945.
As a promoter, Arthur shaped Australian speedway's formative years and revived it after World War II when he imported two-wheel and four-wheel speedway stars, and resurrected the motorcycle Tests. His last major contribution to local speedway was his launch of stock-car racing at the Showground during the 1954-55 season. Involved in promoting the Brisbane Exhibition speedway from 1946 until 1969, he commuted from his home in Sydney. Arthur also re-opened the Penrith Speedway in June 1936, and the track was in regular use until 1941 when the army took over the land during the war.
Arthur was also a successful racehorse-owner who joined several syndicates and was a prominent member of Tattersall's Club, Brisbane. Survived by his four daughters, he died of a coronary occlusion on 11 September 1972 at Dover Heights, Sydney.