Kym Bonython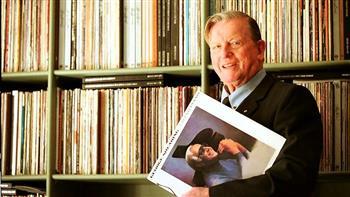 Inducted 2007
Kym Bonython is a name synonymous with 'the Golden Age of Speedway' and in particular Adelaide's famous Rowley Park Speedway. With a flair for promotion and financial management Bonython became known by many nicknames during his 20-year tenure as promoter such as 'Mr Speedway, The Bozz, Pie Eater and the Cecial B. DeMille of Brompton'. The talented Bonython also raced Speedcars during the gladiatorial days of the 1950's and 60's first purchasing an ex Dave Cooper Ford A and was encouraged by a few first season wins to commission Jack Brabham to design and build a twin-cylinder car. Spare parts for the custom engine had to be machined and assembled by hand so it was difficult to maintain and therefore made way for a Bill Reynolds Holden-powered car which did not meet expectations, so following an appearance of the Eddie Thomas Speedcar at Rowley Park, Bonython negotiated to purchase the car from Victoria. This combination graced victory lane in the first 50-lap Speedcar Derby at Tracey's Speedway in Melbourne and the 1956 Australian Championship in Queensland.
In 1963 Bonython was offered a test drive of the Jimmy Davies Offenhauser, which was less cumbersome and more responsive than the Holden-powered cars and more reliable in races over 20 laps. Bonython was so impressed he naturally wanted to purchase a similar car and was introduced to New Jersey's Joe Barzda and a Studebaker Speedcar was exchanged.
Ironically Barzda introduced Bonython to his Adelaide friend Mac Diamond, who was a whiz mechanic and later looked after Bonython's racecars. Bonython continued to race up until the end of the 1968-69 season in the imported Kurtis Craft Offenhauser Roadster while all along promoting Rowley Park Speedway.
Meanwhile Bonython continually sought for better and more exciting attractions to keep the public even more interested in Rowley Park with annual Fireworks displays and imported champion drivers from overseas such as Bob Tattersall,
Jimmy Davies, Leroy Warriner, Johnny Tolan, Sherman Cleveland, Mike McGreevey, Hank Brown, Don Meacham, Bus Brosene, Stock Car ace Marshall Sergent and female Powder Puff Derby driver Bobby Borghese. Mixed with interstate and
local competitors the likes of Ray Revel, Jeff Freeman, the Beasley Brothers, Johnny Stewart, Jack Brabham, Harry Neale, Arnie Sunstrom, John Moyle, Phil Herreen, Zeke Agars, Jack 'Gelignite' Murray, Murray Parker, Ray Skipper, Bill Wigzell and Geroge Tatnell.
It was always a major financial risk to bring new drivers and attractions to Rowley Park however none paid off more so than Australia's first Demolition Derby in 1964/65. Seventy cars entered and attendance swelled from the usual 10 000 spectators to over 20 000. Police ordered that no more could enter so hundreds of people were left standing outside to hear the crunch of metal and the shriek of the crowd.
Born on September 15, 1920 Bonython was christened Hugh Reskymer Bonython in honour of the Sheriff of Cornwall (1620's) where the family lineage can be traced. As a youngster he begged his mother to take him to the Speedway Royale at the Wayville Showgrounds and was hooked for life.
Upon the outbreak of the Second World War Bonython resigned from his junior accounting position with J.F. Key, Reid & Co. to volunteer for the R.A.A.F. When the Japanese invasion erupted in 1941 Bonython served as a Reconnaissance, Torpedo Bomber and Mosquito pilot with many narrow escapes and was awarded the Distinguished Flying Cross and Air Force Cross.
After discharge Bonython began a successful dairy farm and cattle stud (St Magnus) and in 1952 Bonython was invited by the Mayor of Hindmarsh to tender for the lease of Rowley Park Speedway.
Bonython's addiction for speed took him from promoting and racing at Rowley Park on Friday to Tracey's Speedway in Melbourne or the Sydney Showground on Saturday night and on many occasions on to Brisbane for the following weekend or back home for a Sunday Speed Boat race.
In 1965 Bonython opened an art gallery in Sydney and moved there in 1972, selling his Rowley Park lease to a group of ex-speedway drivers and car owners. In 1977 Bonython returned to Adelaide to be close to his sick mother and purchased his original gallery in North Adelaide.
He passed away in 2011, being granted a state funeral by the South Australian Government.