Harry Neale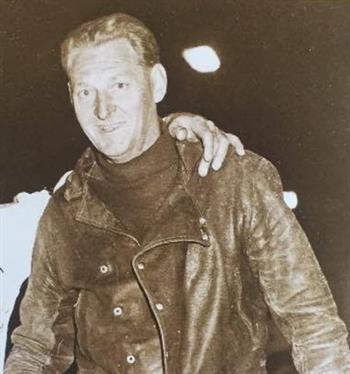 Inducted 2009
Harry Neale was known as the Black Prince because of the black garb he always wore and was one of South Australia's greatest drivers being tall, good looking and modest about his successes.
He started his racing career at Kilburn speedway just after it a opened in 1946/47 driving the Aub Ramsay JAP special built by Alex Rowe in 1935. The car was taken on an early morning sprint up Gawler Road and it was reported that Neale was even more satisfied with his purchase and eagerly looking forward to driving it on the race track.
The very good finish in workmanship, handling and success of the JAP Speedcar encouraged Neale to purchase a faster car, the No. 4 Ford- A powered Speedcar. During the 1948 season Neale was given the name Henry III, due to finishing in that position in all the championship races.
During his first appearance in Melbourne Neale finished 4th behind Ray Revell in the 20-lap World Derby.
When the Racing Drivers Association supported Speedcar racing at Rowley Park in 1950 in preference to Kilburn (which closed in 1951) some of the drivers continued to race at Kilburn and were not RDA members, including Neale. When Neale finally came across to Rowley Park he found his favorite number 4 had been reissued to Peter Spicer. The number 21 was available so Neale put them together and created the famous 4½ car, which was another Ford- A powered machine ex Bill Dutton. Much to the delight and amusement of the Rowley Park crowd Harry was 6' 4" tall and the joke was carried still further when sidecar passenger Shorty Schirmer arrived on the scene with the number 1/2 on his leathers.
Later a V8/60 was utilized until an ex Revell Holden took its place followed by another Holden, registered as #1 in 1957.
Harry Neale was written about in the Australian Woman's Weekly where he was reported as saying that if his fellow competitors couldn't drive like men they should take up knitting! Alan Golding distributed bags of knitting to all the other drivers at the next race meeting and when Neale's car was pushed out onto the circuit he was confronted with all his competitors knitting furiously! His one word response cannot be printed or the sake of women and children.
Neale won a staggering 52 career feature race wins. They included the 1951 and 1957 South Australian Championships, the 1952, 55, 56, and 59 Australian Speedcar Derby and the 1957 Rick Harvey Memorial.
Neale also won the 1957 Victorian Speedcar Championship, the 1958 Brisbane ¼ mile AGP and the 30-lap World Derby and the 1956 Water Folies Championship where the trophy was a beautiful silver tray. There were also South Australian versions of the Australian Speedcar Championship (also known as the Australasian or Jubilee Championship) Neale won in 1951 at Kilbum and 1952, 55, 56 and 59 at Rowley Park defeating such drivers as Dave Cooper, Arn Sunstrom, Ray Revell, Bob Tattersall and Jack O'Dea.
Harry and his Repco-Holden Speedcar held the Sydney Showground 3 lap track record in 1957. His race record at Skyline Speedway in one season was 39 race starts for 36 wins and 2 minor placings. He also competed in several road races in the Special, built by Eldred Norman. This car was unique in that it had two Ford engines in line, so it was a handful to drive. Unfortunately, like Jeff Freeman, our sport was robbed of yet another great champion midget driver, fatally killed while competing on the Claremont circuit in Perth in 1959 at the age of 39. Rowley Park promoter Kym Bonython said at the time "Harry Neale's death is a terrific blow to the sport of speedway and will leave an irreplaceable gap in the ranks of Australia's top speedcar drivers. He was undoubtedly the best driver in Australia and was in fact, in world class."
The Harry Neale Memorial was conducted for many years with drivers such as Dean Hogarth (1961 and 62), Andy McGavin (63), Jimmy Davies (64), Bill Curnow (65), Bonython (66) Bill Wigzell (1967 & 74), Joe Braendler (1968 & 70), Bruo Rickland (69), Peter Maltby (71), Doug Sunstrom (72) an George Tatnell (73).