Don Mackay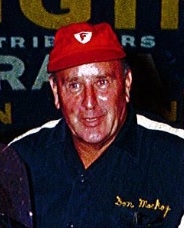 Inducted 2007
Don Mackay's racing career ended when World War Two began and his name did not re-appear in speedway circles until near the end of the 50's when he acquired a stable of three Holden powered midgets.
With three very talented drivers behind the wheel, Mackay's golden era of midget racing success began. Andy McGavin, Peter Johnson, and Johnny Harvey collected many feature race victories at Westmead, Windsor, and the Sydney Showground Speedways. Don Mackay's famous Mobil Gas Holdens would also wreak havoc on interstate tracks.
In 1962 Mackay purchased two Offenhausers from American imported drivers and so began the famous stable of Mackay Offies, resplendent in their black and gold livery. During the decade of the 60's, the dominant Mackay Offies would tally up a staggering 42 career feature race victories, and that was just at the Sydney Showground, home of the National Speedcar Club, the then supreme midget association in the country.
Mackay had everyone scrambling to be in the team. He picked the best. Jeff Freeman, Johnny Harvey, Andy McGavin, Ray Oram, Lew Marshall, New Zealander Barry Butterworth, Len Brock, Nick Collier, George Tatnell, and even his two sons, Ronald and Ian.