Garry Rush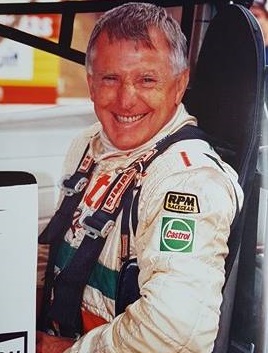 Inducted 2007
Garry Rush is an Australian Speedway racing icon, dominating the national sprintcar circuit throughout the seventies, eighties and until retirement in the nineties. It started racing Stock Rods as an 18-year-old at the Westmead Speedway, not far from his boyhood home of Auburn, NSW in 1964.
Frustrated at being crashed out of events Rush accepted a drive of Ron Madden's Midget, followed by a chance with Hedley McGee's fuel- injected Ford Falcon powered machine and the number 30 Higgins Brothers Holden, which propelled him into the Sydney Showground A-grade Speedcar ranks.
Meanwhile Rush was offered a drive in the Don Fortune Super Modified and
took it right up to the big names of the day (Dick Briton and Bill Warner) culminating in winning the 1966 NSW Super Modified Championship in the lightweight six cylinder-powered Holden.
It was also the year Westmead and Claremont promoter Aub Lawson gave Rush his first taste of interstate competition when he booked the promising Sydney youngster for a stint in the west.
Garry had a new Don Fortune Super for 1967 while also driving the Ted Dark Berco #65 Speedcar to his first- ever career feature race win at the Sydney Showground. Subsequent years were spent steering his own ex- Joe Braendler midget and a Don Mackay Offenhauser.
After a falling out with the Speedcar Club Rush concentrated on his formula one dream and raced a Formula Ford in the 1971 Driver to Europe Series, finishing second to Larry Perkins. Rush also competed at Bathurst in 1970 and Garry bought the ex Tony Ward Super Modified in 1972 and took out the Trans-Pacific Classic at the Showground and later that year changed the face of Australian Speedway by purchasing the imported Anderson Sprintcar, becoming one of the key players in the in the newly started sprintcar revolution.
A desire to race American Legend AJ Foyt led Rush to purchase a brand new Edmunds Volkswagen Speedcar, however at the last minute Foyt could not make the trip and Rush went on to win the 1977 Australian Speedcar Grand Prix at the Liverpool Speedway.
It was also the year that Rush won his first of 10 Australian Sprintcar Championships in Bunbury Western Australia driving for Sid Moore. His amazing achievements also include 7 Grand Annual Sprintcar Classics, 8 NSW Sprintcar Championships, 5 Adelaide Masters, 2 ACT Sprintcar Championships, a South Australian, Queensland, Tasmanian and Victorian Sprintcar Championship,13 World Series Sprintcars Round wins, 12 Easter Sprintcar Trail round wins and the 1987 World Sprintcar Championship in Perth, amongst many other victories. Rush also raced Sprintcars and Super Modifieds in America, NASCAR on the paved high-banked Calder Park Thunderdone and had other Bathurst stints in 1987 and 1990.
Rush drove for various Sprintcar teams, including rival Steve Brazier and the famous Jack Maggs HM Headers crew plus his own car combinations, however a 1981 pairing with Sydney engine builder Ivan Walker and former modified and Grand National driver racer John Barrett to oversee preparation of his Stanton was a catalysts to his eighties domination. Rush won 7 out of 10 Australian Championships over a 10-year period. 1985/86 saw Garry carrying the corporate colours of Rothmans' cigarette brand Winfield until the early nineties and Castrol until retirement at Parramatta City Raceway on March 28, 1998. He also returned to Speedcars to win the Sydney Showground finale in 1996.