Arthur Wilkinson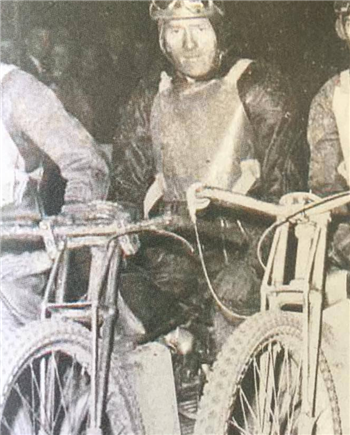 Inducted 2008
Arthur "Bluey" Wilkinson derived his nickname from his red hair. He was born in Millthorpe NSW and at age four the family moved to nearby Bathurst.
While at South Bathurst Public School, Arthur saved the money to buy his first bicycle by working after school as a paper-boy. On leaving school he was employed as a butcher-boy and purchased his first motor cycle, a Douglas, for £3 10s. Within twelve months he was setting speed records on the dirt track at Bathurst Sportsground.
After he won the unofficial New South Wales championship, competing against Lionel Van Praag, a public fund was established to send him to Britain. Bluey set off for England at age 18 and was eventually picked up by the West Ham Hammers. He rode for the club for ten years, from 1929 to 1939. During this period he finished third in the 1933 Star Riders Championship, the forerunner to the World Speedway Championship. During the inaugural World Title in 1936 Bluey was undefeated in the heats however he did not claim the prize because every finalist carried forward bonus points from the qualifying rounds. The honour of the first World Speedway Champion fell to fellow inductee Lionel Van Pragg.
He was favorite the following year, but was ruled out with a broken wrist. Finally, after two frustrating years in chase of the title, Wilkinson won the 1938 World Speedway Championship at London's Wembley Stadium in convincing style, despite a nagging shoulder injury- legacy of a crash at New Cross on the eve of the World Championship. Unfortunately it was the last World Final before the outbreak of World War II and it was another ten years before the event was staged again. Just how many more titles Bluey could have won will remain a heated discussion.
He won the 1937 League Championship with the Hammers and the ACU Cup the following year. At home he won the 1935 and 1938 Australian Solo Championship and the 1935, 38 and 39 New South Wales Championship.
Wilkinson was also called up for Test Match duty and it was in this sphere of red hot competition where he excelled, despite failing to score during his first test match in 1930. Wilkinson was the first ever Test rider to score maximum points in every Test match during an England vs Australia series. He achieved this unique honour in five Tests (Sydney) during the 1937-38 series
for a magnificent unbeaten record. A favourite with spectators because of his daring riding, he was dubbed 'the red-headed miracle'. Following a racing collision in which he found his handlebar bent inward, he introduced curved handlebars to motor cycle speedways. He also ceased the practice of thrusting out or trailing the leg while cornering. Les Wotton once said of Bluey," your race against Bluey was never over until you crossed the line first".
Popular though he was, Wilkinson was something of a loner. He was always last to arrive at a track and more often than not he was the first rider to leave at the end of a meeting.
He was keen on Shakespeare and took in as many of these plays as his overloaded racing diary would allow. Psychology, too, was one of his more unusual hobbies. Wilkinson was also the first speedway rider to appear in Madame Tussaud's Waxworks Museum shortly after his World Final victory in London.
He retired in 1939 to take over as Promoter at Sheffield. A year later he was returning home from a night at the theatre in Sydney, with his wife on the pillion of his road bike, when a truck driver swerved to avoid a car coming out of a side street and ploughed into the champion.