Doug Robson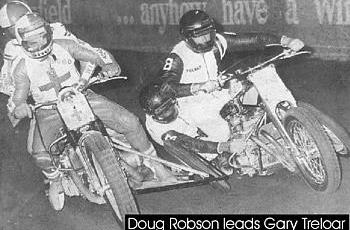 Inducted 2018
A legendary competitor of the 1960's Doug Robson from New South Wales was instantly recognised by his white uniform with a red cross that he wore in honour of his deceased brother Allan.
Doug is a 3-time Australian Speedway Sidecar Champion winning in 1967, 74 & 75. He won the NSW Championship on 6 occasions and the Australian Best Pairs in 1978.
His career spanned 23 years, todays aches and pains a badge in honour of many of his mates who passed away while racing and a reminder of the 28 accidents and many broken bones suffered as a motorcycle racer. Doug raced at most tracks throughout Australia in what was considered the golden era of Australian Speedway and won the Australasian Title in New Zealand in 1967 racing his HRD Vincent machine.