FANTASY SPEEDWAY FINAL STANDINGS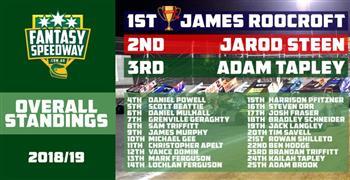 Fantasy Speedway's Inaugural season has been nothing short of a success, with over 3,500 registered players each having taken part in 22 individual Fantasy League events.
The 2018/19 season has witnessed each National Division embrace the platform, using it as a tool to engage fans for their Australian Titles. Lucky (or skillful) players have collectively won thousands of dollars in gift vouchers and merchandise, courtesy of event sponsors, and Speedway Star - Tours & Apparel
To celebrate Fantasy Speedway's success, Speedway Australia are rewarding the Overall Series Winner with two tickets to this year's Australian Speedway Awards & Hall of Fame on June 22nd, to be held at the Adelaide Convention Centre.
Congratulations to James Roocroft, our 2018/19 Fantasy Speedway Champion! Special Mention to runners up Jarod Steen and Adam Tapley, both of which will be receiving a prize pack courtesy of Australian Speedway Awards & Hall of Fame
Thank you to everyone who took part in our 2018/19 Fantasy Speedway League. Keep an eye out in the coming months for exciting announcements regarding next year's games, as we look to go bigger and better in 2019/20.
Posted: 14/05/2019